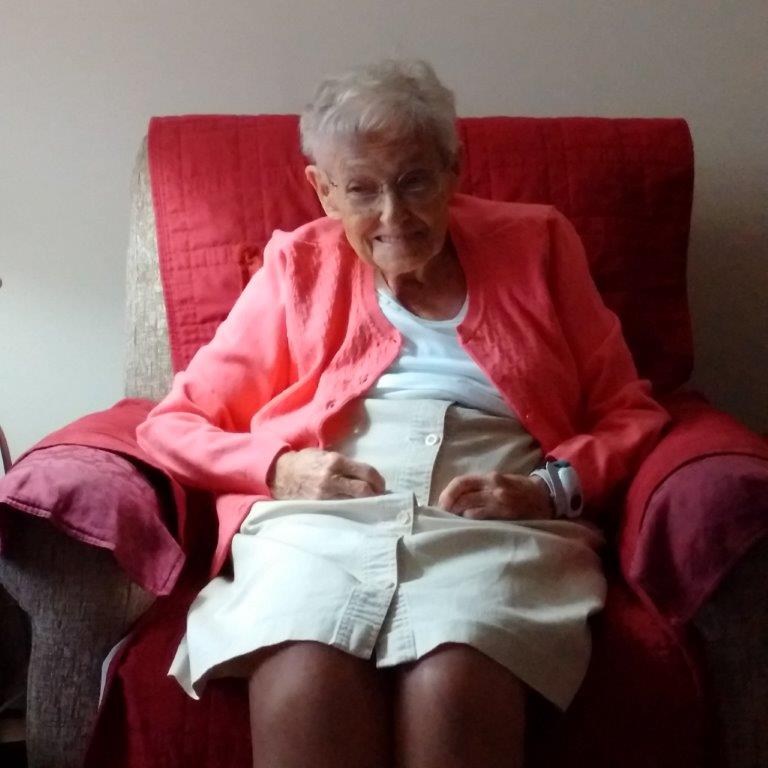 95 years young
Audrey was born in Windsor Ontario in 1921 and lived in Windsor for most of her childhood. Audrey's father worked at Ford and was constantly being laid off. This made life difficult for the family. Life continued to be difficult when Audrey's mother passed away from cancer at a young age leaving 5 children. At sixteen, Audrey had to quit school and take care of her younger siblings because the other older siblings were not living at home at the time.
When Audrey was 18 years old she moved from Windsor to Toronto because her dad found steady employment at John Inglis and Company in Toronto. A year later her dad was able to get Audrey a job there as well.
Audrey met her husband when he was deployed to Ontario from England. They got married in 1943 and decided to set sail to England in 1944, a trip that took them 12 days. They had a fun filled and exciting life. They had two children a daughter first who was born in 1948 and then a son a couple of years later. Audrey was so happy to have a boy because her husband was happy with a girl, but really wanted a son very much. Audrey stayed in England for 3 years but then had to move back to Ontario because of her health. Audrey was born with a hole in her heart which was never addressed because in those days surgery was not an option.
Years later her husband passed away from cancer in 1988. Audrey always wanted to travel across Canada, not by plane but by ground. Audrey travelled first to western Canada, spending 15 days touring, and then two years later in 1992 she travelled to eastern Canada.
Audrey made lots of friends over the years especially a particular friend that she stayed in touch with from Windsor. Sadly she passed away only three years ago. Another set of friends she had were from England where she was the Maid of Honour at their wedding. After many years they lost contact and they had been searching for each other for over 50 years! One day after living at 2440 Truscott, she saw a gentleman downstairs and heard someone call out his name, she thought to herself, now there cannot be two men with that name! She found him and asked him if he remembered who his maid of honour at his wedding was and he instantly recognized her! The gentleman and his wife became friends again enjoying many gatherings and get together over tea until they passed away.
Audrey's daughter now lives in Picton, Ontario and has four children. Her son lives in Barrie, Ontario and has two. Out of the six grandchildren Audrey has ten great-grandchildren and two great-great grandchildren. She feels truly blessed.
Audrey didn't have too many hobbies, but she liked to new and cook, which she learned because of her mother's early passing. Her fondest memories were when she was a child taking trips to visit her aunt and uncle in Springfield Massachusetts. They had no children so they loved to spoil Audrey and her siblings. Audrey can remember her uncle holding her upside down and letting her walk on the ceiling! She enjoyed that very much!
Audrey has been with Peel Senior Link for 13 years, joining in 2004. She feels comfortable knowing that she is with a reliable company and that when she needs Peel Senior Link, they will be there for her anytime.
If you ask Audrey what advice she would give to people, she would say to eat healthy, keep moving and listen to your body.