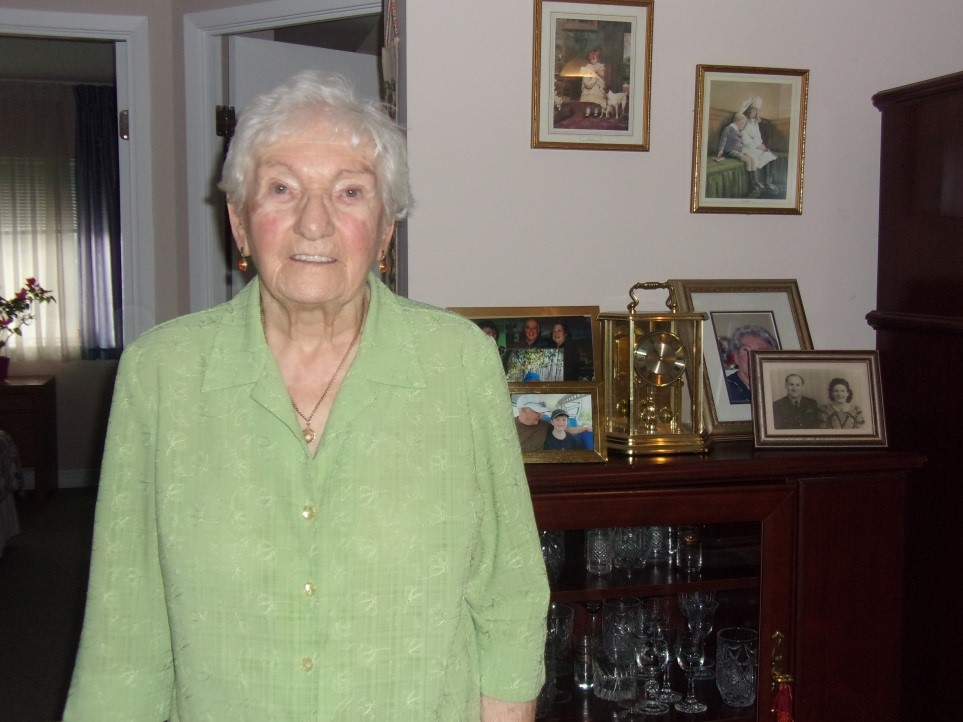 94 years young
Muriel was born in 1923 in Shrewsbury, England in the village of Nesscliffe on a farm called Long Jacks Place. Muriel is the youngest in her family with 5 sisters and 1 brother. She remembers how all her siblings looked out for her and how she was spoiled by all of them. Muriel has many fond memories of her childhood living on the farm, riding horses with her brother, jumping the hedges and going to the sweet shop.
Muriel recalls how her mother, Emily, was very loving and caring and how she always wore an apron. John, was Muriel's father, was also known as Lanky John because he was 6 foot 3 and slender. Everyone in the village knew him.
Muriel married in 1945. Muriel's husband Kazek was a fighter pilot in World War 2. When he left the Air Force in England he worked in a factory. He was not happy with his job and decided that he wanted to move to Canada. Kazek came to Canada eight months before Muriel and the children to work at Eastern Power Device and to find a flat for his family to live in Muriel and the children, then aged 12, 11, and 8, came to Canada and joined Kazek. When the company where he worked closed Kazek found a job with American Motors assembling cars. When American Motors closed they sold to Chrysler where he worked until he retired at age 60.
In Canada, Muriel and her family lived in Toronto close to High Park in a two bedroom flat. Muriel worked in the cafeteria at St. Joseph's hospital in the evenings. Three years later the family moved to a 3 bedroom apartment over a store in Bloor West village. At that time Muriel changed jobs and worked for the Trocadero Club. Muriel worked in the evenings booking weddings and parties as well as working in the snack bar a few nights a week during the dances at the club.
In 1963 Muriel took a course and became a Kindergarten Teacher Assistant for 12 years. When she retired she and her husband sold the house they had bought in the city and moved to the cottage they purchased many years earlier on Snache Island and lived there for 9 years. Then they bought a mobile home in Shrewsbury, England and lived on Snache Island in the summer and Shrewsbury England in the winters.
Muriel talks about how her children are always around and how very involved they are in her life and willing to drop everything in order to help her anytime.
Today Muriel enjoys knitting and making cat blankets for the Humane Society. Muriel enjoys doing cross word puzzles and watching the news and history programs on TV. Muriel enjoys participating in building activities and outings and likes to go for walks in the afternoon either outside or in the building.
Muriel has many fond memories of traveling with her husband all over Europe when they retired.
In December 2013 Muriel found she was in need of help and found assistance with Peel Senior Link. Muriel states, "PSL has given me the confidence to live in my home knowing that help is always there when I need it". "Not so long ago I had a fall and was able to call PSL. The staff came right away and assisted me off the floor, ensured I was comfortable and gave me extra visits throughout the night to ensure I was OK". "I am very happy with the staff at PSL. The staff are nice and polite".