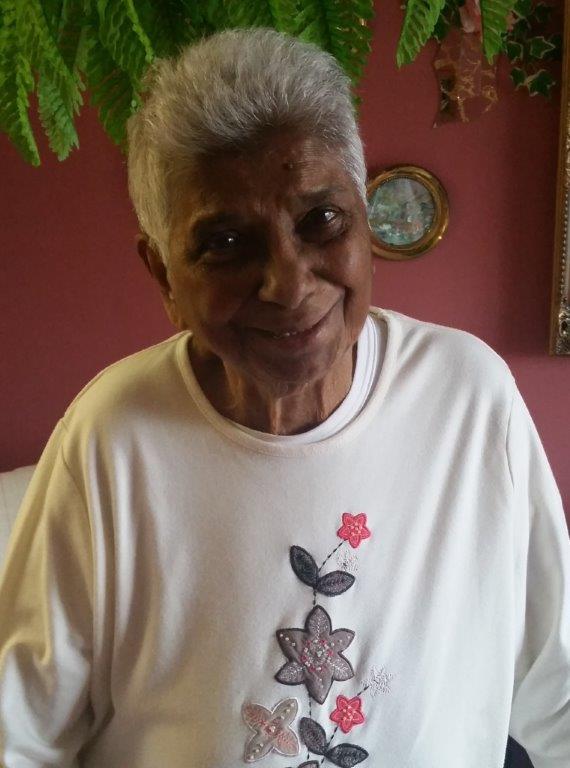 89 years young
Sairah was born in 1927 in Guyana. She has 9 siblings, 5 brothers and 4 sisters. Her mother was a stay at home mom and her father was an icemaker back home in Guyana. Sairah came to Canada in 1977 with the help of her youngest son who was attending college here. Sairah has 2 loving sons. She has 3 grandchildren and 2 great grandchildren. She has lived in Mississauga since she arrived in Canada. She has lived in her apartment since 1987. For a short period of time she worked as a cleaner in a hotel.
When Sairah was younger she loved travel. She has travelled to Holland, England, Belgium, different cities in the USA and has taken a Caribbean cruise. When she moved to Canada she would travel back home to Guyana every year to visit her family.
Sairah's favourite hobbies in the past were cooking and sewing. She used to make all of her clothes as well as her sons' clothing. She still helps with cooking when she visits her children for family dinners by helping peel or chop food.
Sariah enjoys crosswords. She says it helps keep her brain sharp and it also helps with passing the time in between staff visits. At 4:30pm every day during the week she watches her favorite soap opera the Young and the Restless. She cannot miss a day.
In her 90 years her fondest memories are coming to Canada, her 2 sons being born and watching them grow up to be happy and successful husbands with families of their own. Her grandchildren and great-grandchildren are great memories as well.
Sairah came onto Peel Senior Link services in December 2011. The impact that Peel Senior Link has had on her life has been great. She has been able to live in her own home with the help of Personal Support Workers assisting with her daily activities, especially after her surgeries. Her health has become stable and has not declined. She has tried her best to stay active by attending the exercise classes that are provided in the lounge on a weekly basis. She comes down to the coffee group to socialize with the other patrons in the building. She recently tried Nordic Pole walking for the first time. It was a little nerve racking for her but in the past few weeks has improved with the help of the instructor and her determination.