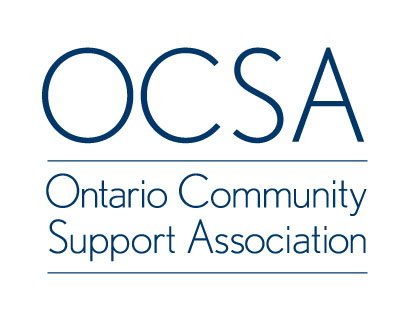 Recommendations highlight three key areas for immediate investment aimed at optimizing the home and community care sector for better client outcomes and system sustainability.
Toronto, Jan 18 2018 – The Ontario Community Support Association (OCSA) today submitted its 2018 Budget Recommendations to the provincial government. Ontario's not-for-profit home and community support providers have been helping their clients, close to a million of them every year, to live independently in their own home or community for as long as possible.
Recognizing the positive impact of this sector, the government has been actively increasing access to these services in order to shift care from the acute and long-term care sectors to the community.  However, this additional funding for service expansion has not been accompanied by investments in the infrastructure of the organizations that deliver these services. Providers in the home and community care sector, the majority of them being not-for-profit organizations, have been asked to do much more with less for many years. This has forced agencies to take difficult decisions, including increasing client fees or delaying investments in technology, to compensate for insufficient government funding.
OCSA recommends the province invest $359 million into the provision of care by frontline home and community organizations in 2018-2019 along three key investment principles: ensuring sufficient service volume and organizational capacity to meet client need, stabilizing and strengthening the home and community care workforce, and enabling innovation and evolution in the sector.
Quick Facts
33,000 new clients were served by community support service programs, 5% more than last year.
A recent OCSA survey highlights a 13.8% increase in client fees since 2011, an increase higher than the rate of inflation of 8.7% for the same period. 44% of OCSA members reported that clients have declined, reduced or stopped a service due to fee increases.
A report published by OCSA and Home Care Ontario prepared by KPMG estimates that the sector needs an additional $51.4 million to cover increased costs in 2018-19, on account of the Fair Workplaces, Better Jobs Act.
3.5 million hours of service are being donated annually by volunteers in the sector. With an estimated value of $85 million, Ontarians stand to lose this valuable service with the entry of for-profit businesses in the community support services sector.
"Over the past decade, the home and community care sector has been consistently delivering more with less – keeping people in their communities and delaying the need for expensive institutional care, but they are unable to sustain this." said Deborah Simon, CEO.  "These crucial investments are needed now.  They would not only provide immediate relief to an overburdened healthcare system grappling with capacity issues but also position it to grow and meet future demand.  We owe it to Ontarians to serve them the choice to live independently in their own home or community for as long as possible."
Click here to access 'Better at Home', OCSA's Budget Recommendations report
About OCSA
Across the province each year, over one million people receive home care and community support services – and the need is growing. The Ontario Community Support Association (OCSA) represents 270 not-for-profit organizations that provide home care and community support services that help seniors and people with disabilities live independently in their own homes and communities for as long as possible. These compassionate and cost-effective services improve quality of life and prevent unnecessary hospitalizations, emergency room visits and premature institutionalization. They are the key to a sustainable health care system for Ontario. For more information, visit http://www.ocsa.on.ca