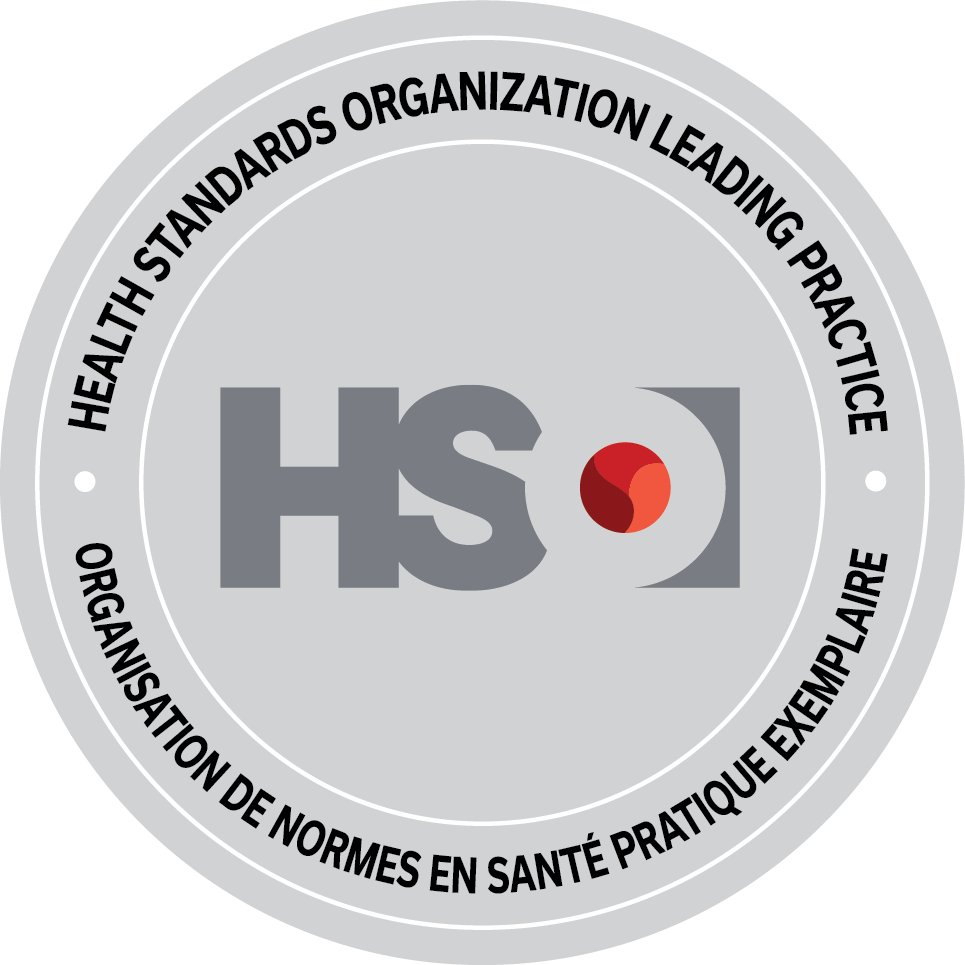 Mississauga (March 26, 2019) – Peel Senior Link and Resident Care Pharmacy's partnership with the Medication Management Program has been accepted by Health Standards Organization as a leading practice. The submission titled "Health Quality, Safety, and Enhanced Experience for Community-Based Client – A Collaborative Medication Management Program" met all the required criteria to be defined as a "practice carried out by a health and/or social service organization that has demonstrated a positive change, is people centred, safe and efficient".
Peel Senior Link (PSL) and Resident Care Pharmacy (RCP) developed a comprehensive Medication Management Program (MMP), including drafting of policies and procedures, orientation videos, audit procedures, service agreements, ongoing evaluation and performance improvement and access to 24 hours' pharmacist support. Clients who are on multiple drug regimes, experiencing cognitive loss or physical challenges that keep them from safe medication administration, receive in-person delivery of the medications at the prescribed time by a Personal Support Worker (PSW). The PSW instruct, cue and encourage the client to take their medications under supervision and within their scope of practice.
The objective of the program was to reduce medication related errors, hospitalization rates, delay/avoid long-term care placements, and ensure the capacity for continued independence of seniors.
System value is demonstrated in three ways: (a) Potential cost savings: MMP has shown to reduce medication errors, thereby reducing emergency hospitalization and ER visits, (b) Client value: Seniors have clearly articulated on their preferred place to live independently in their own homes. With more seniors living with chronic conditions, multiple drug regimens are becoming the norm. Our MMP has essentially shifted the responsibility from clients to staff, thereby reducing a significant emotional burden on the client and caregivers, and (c) Societal value: By ensuring that seniors are supported in managing their medications, expensive hospitalizations and ER visits are avoided. These savings can be diverted towards other critical health system needs or simply used as cost savings for the entire society.
About Peel Senior Link
Peel Senior Link is a non-profit charitable organization that provides quality and valued assisted living services by helping seniors live independently and safely, with dignity and respect. Since its inception, the organization has provided personal support and homemaking as core services on a 24/7 basis, along with numerous research & innovative partnerships and complementary programs and support to over 1,200 clients and caregivers in the Region of Peel (Mississauga and Brampton). The organization has been accredited with exemplary standing with Accreditation Canada and is the recipient of numerous quality and leadership awards for its innovative community care model and health system improvements.
About Resident Care Pharmacy
Resident Care Pharmacy exclusively provides pharmacy services and products that are unique to supportive independent living residences and group homes across Ontario. As a specialty pharmacy they are not open to the public like a regular retail pharmacy which allows their team to focus solely on the individual and their care providers by providing specialty medication packaging, tailored training and on going support with medication management.
About Health Standards Organization
HSO stands for Health Standards Organization. Formed in February 2017, our goal is to unleash the power and potential of people around the world who share our passion for achieving quality health services for all. We are a registered non-profit headquartered in Ottawa, Canada. As our name states, our focus is on developing standards, assessment programs, and other methodologies to enable health and social service providers around the world to move the needle on quality while doing what they do best: saving and improving lives.
About Leading Practices
Health Standards Organization (HSO) and its affiliate, Accreditation Canada, have been identifying and publishing Leading Practices in the Leading Practices Library for over 15 years. A Leading Practice is a practice carried out by a health and/or social service organization that has demonstrated a positive change, is people centred, safe and efficient.
Interviews are available with Raymond Applebaum, CEO or Swapnil Rege, COO. To arrange an interview or for more information, please contact:
Raymond Applebaum
CEO
Peel Senior Link
905-712-4413 ext. 322
Swapnil Rege
COO
Peel Senior Link
905-712-4413 ext. 325