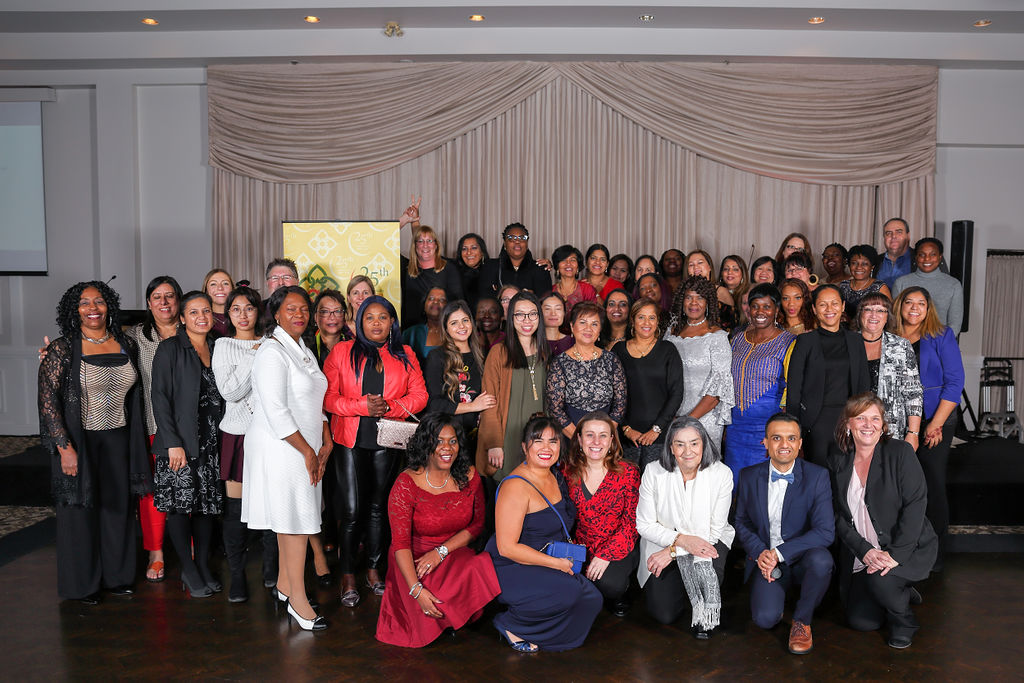 Mississauga (November 26, 2018) – Peel Senior Link (PSL) celebrated its 25th Anniversary with over 175 guests in attendance. We were delighted to have so many clients, caregivers, staff and Board members (past & present), funders, politicians and other guests.
We were honoured to have Hazel McCallion provide the keynote address and ended her remarks with "let's start each day with a purpose and continue to support our community".
We were pleased to have Deepak Anand, MPP, Mississauga Malton and Carmine Domanico, Chair, Central West Local Health Integration Network Board of Directors say a few words, and receive certificates of congratulations from Justin Trudeau, Prime Minister of Canada; Hon. Omar Alghabra M.P. Mississauga Centre; Mississauga Mayor Crombie; and Brampton Mayor Jeffrey.
The CEO shared a 20-year strategic focus with six key foci that have driven the development of PSL in alignment with the corporate mission. Raymond shared comparative stats between 1998 and 2018 – from 14 to some 175 employees; from 6 to 11 service locations across the Region of Peel; and from 100 clients to 325 current client capacity.
QUOTES
"On behalf of the CWLHIN, it is truly my pleasure to be here and to recognize the valued partnership that exists between our two organizations, acknowledge the significant contributions PSL makes to local & surrounding communities, and most importantly to congratulate the entire PSL team, its Board of Directors and staff, both past & present, on the occasion of your 25th Anniversary. It is a tremendous accomplishment & impressive milestone. This achievement and success … especially when sustained over a quarter century… are dependent on the combined effort of impassioned staff, strong leadership… and committed governors. Derek (Board chair) and Ray (CEO), it is certainly not lost on anyone here tonight that PSL has all three".
– Carmine Domanico, Chair, Central West Local Health Integration Network Board of Directors
"In 1991, this grassroots organization emerged from a few committed volunteers who identified the need to provide seniors with the capacity for independent living, particularly those who were low income and required rent-geared-to-income support".
– Derek Rodrigues, PSL Board Chair
"What keeps me up at nights are not the high risk clients that we serve, but the vulnerable ones that we don't".
– Raymond Applebaum, PSL CEO
 PEEL SENIOR LINK
Peel Senior Link, a non-profit charitable organization established in 1993, provides personal care & home-making services and a range of other complementary supports. Peel Senior Link maximizes safe independent living to help seniors live with dignity and respect.
Services are client-directed, flexible and individualized. Personal care & home-making services are provided at no charge to 325 clients in designated buildings and surrounding neighbourhoods in Mississauga and Brampton.
Peel Senior Link is funded by the Ministry of Health and Long-Term Care through the Mississauga Halton and Central West Local Health Integration Networks, and through grants and personal and corporate donations.
Peel Senior Link is accredited with Exemplary Standing by Accreditation Canada.
All pictures and video courtesy of Borada Photography